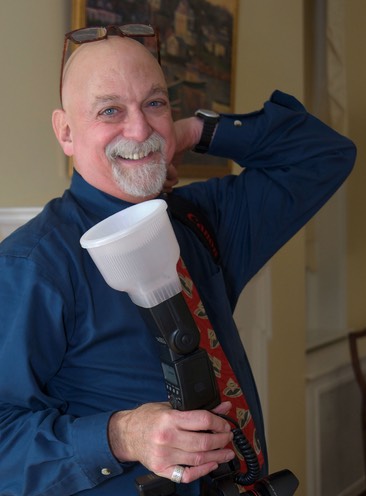 Image by Palma Brozzetti
I was born prematurely in Cleveland, Ohio, in early 1948. My eyesight always has been a problem. I was extremely nearsighted and use my left eye almost exclusively. There's even a name for my condition, retinopathy of prematurity. Colors even are different in my right eye.
My tenuous sight, however, benefitted me. First, I never took my eyesight for granted. In fact, but for retinal laser surgery, I would have been blind in the 1970's. Prior to cataract surgery in my mid-40's, I could see things clearly from an inch or less away, which enabled me to see details, patterns, and shapes in ordinary objects. I just loved seeing "hidden" things! I later learned that this ability gave me a unique way of looking at the world.
I picked up my first camera, a Kodak Brownie, in 1956. It was very simple. I just looked through the viewfinder and pressed the shutter button. That little camera "hooked" me on photography! Soon, I was using my Dad's cameras. They were fully manual, like all cameras then. I learned so much: how to use a separate light meter and the relationships between film speed, aperture, shutter speed, focal length, and subject distance. While tedious, I learned the art and science of photography.  
When I'm out shooting, I turn on my "special: vision. I still see those details, patterns, and shapes that I always saw before. I'm always looking for a visual "wow"! When I see one, I grab my camera (which almost always is with me), bring it up to my eye, and analyze how best to frame and expose the subject. My camera and I become one, and I am in total control. I love it! 
All my image files are unprocessed. I NEVER let the camera touch my files. Each file therefore requires development in today's digital darkroom using Adobe's Lightroom©, Photoshop CC©, DxO OpticsPro 11©, and, when appropriate, Aurora HDR Pro©. Each file may take anywhere from 15 minutes to several hours to develop. The digital darkroom requires expertise and common sense. The tools are so powerful that their overuse easily easily can ruin otherwise good images. 
In the end, I choose and personally print the best images. I control the entire process to ensure perfect tones and the highest quality. All prints are "monoprints," i.e., originals. Each print is original in its size, medium, process, and signature. will never print that file in that size ever again! All prints are made on museum quality, archival, photo paper or very special canvas called. Finally, the paper prints or canvases go to my framer, Bill Stitely at Bravura Arts & Framing, who professionally matts and frames them or stretches the canvases onto stretcher frames. Each finished product is fully archival and can be displayed for well over 100 years without any change in appearance.
My work has been shown in group and solo exhibitions extensively throughout the Frederick, MD, and Carlisle, PA areas. I also have had my work shown in Potomac and Baltimore, MD. I am represented in Carlisle by The Garden Gallery and am a juried member (and current President) at The Artists' Gallery, Frederick's oldest gallery, and at the Carlisle Arts Learning Center. Since 2007, I have been teaching photography and Adobe Photoshop© at Frederick Community College, and my work has been exhibited, along with other faculty artists, at FCC's Annual Faculty Exhibition. I also teach Visual Journalism at Shepherd College, in Shepherdstown, WV. I also have taught photography workshops at the Rehoboth Arts League in Rehoboth Beach, DE.  I was honored to join The Griffin Art Center in Frederick as a faculty member and resident artist. Finally, for two years, I was a contributing photographer for The Frederick Magazine and Montgomery Life magazine.